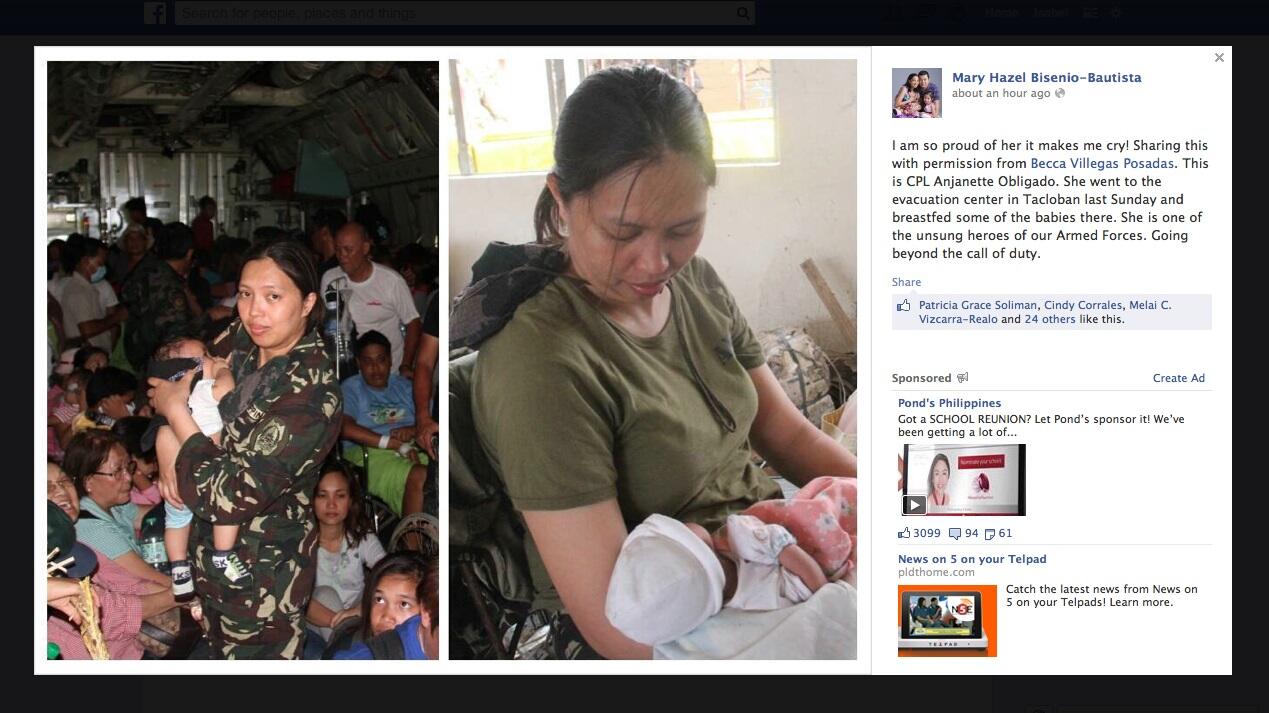 TACLOBAN CITY, Leyte, Philippines – With news of aid coming from international community, our local soldiers and policemen from different parts of the Philippines have also come to the Visayas region to give aid and show their support for the victims of Typhoon Yolanda.
Among them is Army Corporal Anjanette Obligado. She hails from Western Samar while her husband belongs to the Palo, Leyte police. Obligado gave birth last month and lactating, she was one among those who donated breast milk for babies in an evacuation center in Tacloban City.
Corporal Anjannete Obligado's primary goal was to to bring a woman to a makeshift hospital at the Tacloban airport  who had passed out after hours of waiting for a seat on a C130 flight out of the city. Upon reaching the makeshift hospital, the next thing the lady soldier knew, she was breastfeeding babies of evacuees.
Obligado saw a bloodied woman lying in the hospital, soaked in blood, the woman holding her baby at her side.  The woman gave birth November 11,  3 days after Super Typhoon Yolanda (Haiyan) hit the city.
"We talked and we cried together," Obligado said after she approached the woman. She found out that the woman's husband was working in Bacolod City and that time, he didn't know his wife had given birth.
After looking at the newborn baby, Obligado felt she had to help. She then asked the mother's permission to breastfeed the baby, which the mother agreed with much gratitude, as the mother was thirsty and hungry herself, she had no milk for her newborn kid.
Two more babies were fed by the soldier-mother afterwards. "The babies were pitiful," she said. The soldier mother said she was thinking about her 3-month-old baby Mary Olive who is in Manila.
Obligado was in Tacloban because she needed to check on her in-laws.  She found them alive but their house damaged, and the family hungry and thirsty, but nevertheless relatively doing okay.  After she checked on them, she returned immediately to airport to catch a flight back to Manila.
For some who can't be in Tacloban City, extended their help in other ways. A good example is the Army's 4th Infantry Division in Davao.  Capt. Christian Uy, spokesman for Army's 4th Infantry Division in Davao said, the 293 officers and 4,520 enlisted personnel had decided to give up their subsistence allowance totaling P500, 000. to donate it to the typhoon victims.