December holidays around the world
are a time for celebration, reflection, and gratitude. With numerous cultures and traditions represented, there is no shortage of unique and fascinating ways to celebrate this festive season.
From the religious observances of Hanukkah and Christmas to the secular celebrations of Kwanzaa and New Year's Eve, there are a variety of December holidays around the world that offer a chance to connect with loved ones, create cherished memories, and experience the joy and magic of the season.
In this article, we will explore some of the most notable December holidays from around the world and learn more about how they are celebrated.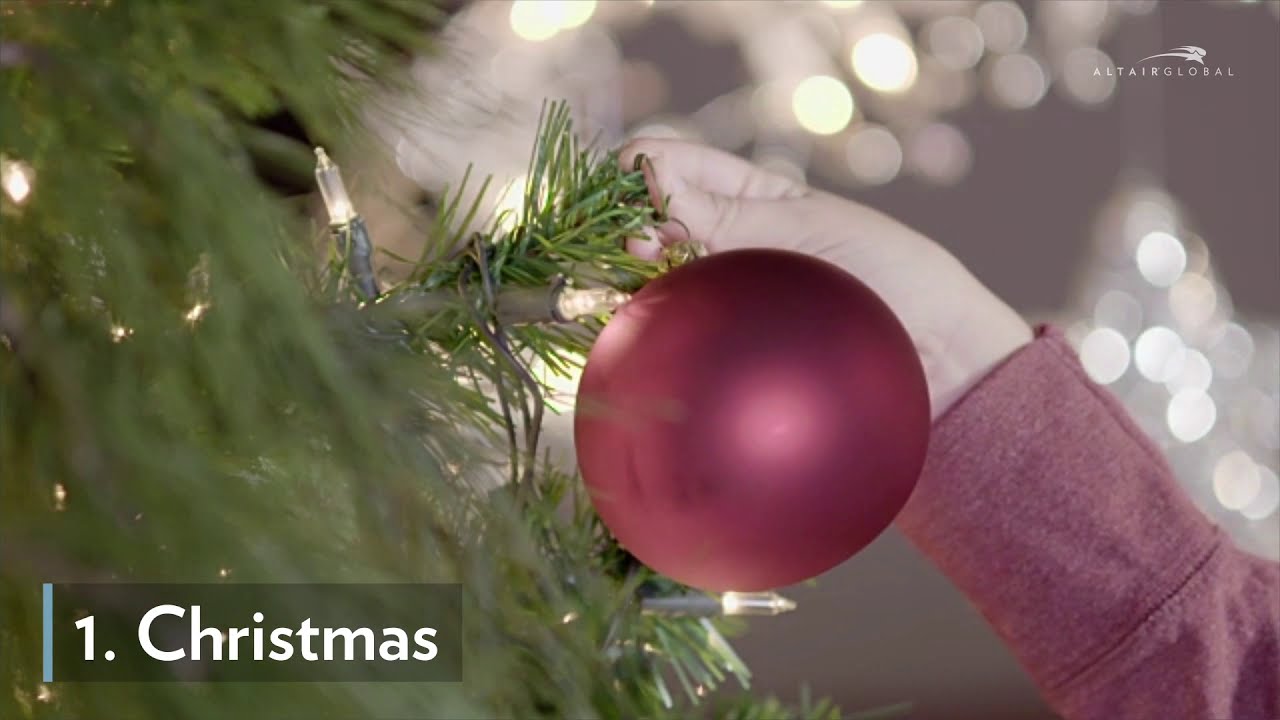 Holidays Celebrated in December Around the World
Christmas in the United States is one of the biggest holidays of the year, celebrated on December 25th. It is a time for family gatherings, exchanging gifts, and enjoying festive foods.
Some of the most popular Christmas traditions in the United States include decorating Christmas trees, hanging stockings by the fireplace, and singing Christmas carols.
Many cities also host Christmas parades and tree lighting ceremonies, with New York City's Rockefeller Center Christmas Tree being one of the most famous.
Hanukkah, also known as the Festival of Lights, is a Jewish holiday that usually falls in December. It is celebrated for eight days and nights, starting on the 25th day of the Jewish month of Kislev.
Hanukkah commemorates the miracle of the oil that burned for eight days in the Temple in Jerusalem. During the holiday, Jews light a menorah, a special nine-branched candelabrum, and enjoy traditional foods like latkes (potato pancakes) and sufganiyot (jelly-filled donuts).
Boxing Day is a public holiday celebrated in the United Kingdom and many Commonwealth countries on December 26th. The origin of the holiday is unclear, but it is believed to have started in the Middle Ages when lords would give their servants gifts on the day after Christmas.
Today, Boxing Day is often associated with shopping and sports, with many people heading to stores for post-Christmas sales and others enjoying football (soccer) matches.
Saint Lucia's Day is a festival of light celebrated on December 13th in Sweden and other Scandinavian countries. It honors Saint Lucia, a Christian martyr who was known for her kindness and generosity.
On Saint Lucia's Day, a young girl is chosen to represent Saint Lucia and wears a crown of candles on her head. She leads a procession of girls and boys singing traditional songs and offering saffron buns and gingerbread cookies.
La Befana is an Italian Christmas tradition that takes place on January 6th, the feast of the Epiphany. According to legend, La Befana is an old woman who flies on a broomstick and delivers gifts to children on the night before the Epiphany.
She is often depicted as a kind of witch, with a long nose and wearing a shawl and apron. In some parts of Italy, children leave stockings out for La Befana to fill with gifts and sweets.
Sydney, Australia, is known for its stunning fireworks display during New Year's Eve celebrations. The iconic event takes place at the Sydney Harbour Bridge and the Sydney Opera House, with thousands of people gathering around to witness the spectacle.
Visitors can take a dinner cruise to watch the fireworks while enjoying a meal or attend one of the many parties held around the city.
Diwali, also known as the Festival of Lights, is one of the most popular Hindu festivals celebrated in India and around the world. It typically falls in October or November and symbolizes the victory of light over darkness.
During the festival, people light up their homes with candles and lamps and exchange sweets and gifts. In India, Diwali is celebrated for five days, with each day having its own significance and rituals.
Kwanzaa is an African-American holiday that celebrates family, community, and African-American culture. It is observed from December 26 to January 1 and features seven principles or values, including unity, self-determination, and faith.
People celebrate Kwanzaa by lighting candles on a kinara, feasting on traditional foods, and participating in community events.
Three Kings' Day, also known as Epiphany, is a Christian holiday celebrated on January 6 in Spain and other countries. The holiday commemorates the visit of the three wise men or Magi to the baby Jesus.
On the eve of Three Kings' Day, people in Spain attend processions where they receive candy and other treats thrown from the floats. Children also leave their shoes out for the Magi to fill with gifts.
The Day of the Little Candles, or Dia de las Velitas, is a traditional Colombian holiday that kicks off the Christmas season.
On December 7, people in Colombia light candles and lanterns in honor of the Virgin Mary and to symbolize the triumph of good over evil. The holiday also features parades, fireworks, and music, and is celebrated with friends and family.
Las Posadas is a nine-day Christmas celebration in Mexico, which begins on December 16th and ends on Christmas Eve. The celebration re-enacts Mary and Joseph's search for a place to stay in Bethlehem.
The name "posadas" means "inn" or "lodging" in Spanish. During the celebration, people carry candles and sing traditional songs as they travel from house to house asking for a place to stay.
Eventually, they find shelter in a home where they enjoy food, drink, and music. Piñatas filled with candy and small toys are also a significant part of the festivities, which end with the breaking of the piñata.
Hogmanay is the Scottish celebration of the New Year, which takes place on December 31st. The origins of Hogmanay are not clear, but it is thought to have evolved from the Viking celebration of Yule.
The festivities typically begin on New Year's Eve with the singing of "Auld Lang Syne," a traditional Scottish song, and the exchange of gifts. In Edinburgh, the capital of Scotland, there is a massive street party, with fireworks, music, and dancing.
The festivities continue on New Year's Day, known as "Ne'erday" in Scotland, with a parade and other events.
Ramadan is the most important month of the Islamic calendar and is observed by Muslims worldwide. In Saudi Arabia, the month-long observance is particularly significant, with the holy cities of Mecca and Medina hosting millions of pilgrims during the month.
During Ramadan, Muslims fast from dawn until dusk and focus on prayer, charity, and spiritual reflection. The fast is broken each day with a meal called iftar, which is typically shared with family and friends. The month ends with Eid al-Fitr, a festival of feasting and celebration.
Fiesta de Santo Tomás is a week-long celebration that takes place in the highland town of Chichicastenango, Guatemala, beginning on December 13th. The celebration combines elements of both the Christian and indigenous Mayan traditions.
The festivities include a procession of dancers and musicians, traditional Mayan rituals, and the selling of handcrafted goods, food, and drink.
The highlight of the celebration is the "pole-climbing" competition, in which participants climb a 50-foot pole to retrieve prizes that have been attached to the top.
Ganna is the Ethiopian Orthodox celebration of Christmas, which takes place on January 7th. The celebration begins with a night-long vigil in the churches, which is followed by a day of feasting and celebration.
People dress in traditional clothing, and there is singing, dancing, and the playing of drums and other musical instruments.
Special foods, such as injera (a sourdough flatbread) and doro wat (a spicy chicken stew), are prepared for the occasion. Ganna is a significant event in Ethiopia, which has a rich cultural and religious heritage.
December holidays around the world include Christmas, Hanukkah, Kwanzaa, Boxing Day, St. Lucia's Day, and many others. These holidays are celebrated by different cultures and religions across the globe.
December holidays around the world are significant because they provide an opportunity for people to come together, celebrate their culture, and spread joy and happiness.
These holidays often have a religious or cultural significance, and are celebrated in various ways such as gift-giving, feasting, and lighting candles.
Traditional foods vary depending on the holiday and the culture that celebrates it. For example, during Christmas, people in the United States often enjoy turkey, ham, and sweet potatoes, while in Mexico, tamales and buñuelos are popular.
During Hanukkah, latkes and sufganiyot are commonly eaten, and during Kwanzaa, people may enjoy dishes like collard greens and black-eyed peas.
Different cultures have their own unique traditions associated with December holidays. For example, in Italy, people often celebrate the Feast of the Seven Fishes on Christmas Eve.
In Sweden, St. Lucia's Day is celebrated with a procession of girls wearing white dresses and candles on their heads. In Germany, the Christmas markets are a popular tradition, where people gather to buy gifts and enjoy holiday treats.
There are many ways to experience December holidays around the world, including traveling to different countries to experience the local traditions and celebrations.
You can also attend holiday events and festivals in your own community or explore cultural events at local museums and cultural centers.
Additionally, trying traditional foods and learning about different holiday customs can be a great way to experience December holidays around the world.
The December holidays around the world are a rich and diverse tapestry of traditions and celebrations. From the joyous festivities of Christmas to the spiritual observances of Hanukkah, and the colorful customs of Diwali, there are many ways people celebrate this time of year.
Whether you travel to experience these celebrations firsthand or explore them through cultural events in your own community, the December holidays offer a wonderful opportunity to learn about and appreciate the diversity of our world's cultures.