If you're a mother who likes to read mom-related blogs, then you might have stumbled upon the works of
Grace Alviar Viray
.
She happens to be one of those mothers out there who writes about motherhood stuff. She also shares her thoughts online about other important things, such as one's personal growth.
Get to know more about Grace Alviar Vira, and see if she has written something that could inspire you.

Pro Video Tips for Mom Bloggers
Grace Alviar Viray is a Filipino professional based in Davao City in Mindanao, one of the three major islands of the Philippines.
She goes by the nickname "Ging." This 2023, she could either be in her late thirties or early forties.
According to her LinkedIn profile, she is married to Kristoffer "Troy" S. Viray, a nursing graduate (Batch 2006) from Ateneo de Davao University.
They have two daughters, namely, Kahlila and Gianna.
An alumna (School Year 1999-2005) of the University of the Philippines Los Baños (UPLB) in Laguna, where she earned her Bachelor's degree in Human Nutrition, Viray is a registered nutritionist dietitian.
As a nutritionist, she worked at Nestle Philippines (role: Nutrition Representative) and Team OnGround (role: Public Speaker/Nutritionist), a Makati-based events services company.
Prior to those jobs, soon after graduation, she worked at Convergys in Makati for 1.4 years as a customer care representative. The company hired her in November 2005.
The other professional roles that Grace Alviar Viray assumed after her brief stints as nutritionist were:
Events Team Supervisor (Team OnGround)

Sales Coordinator (Nitto Denko Philippines)

Corporate Training Officer (Personal Collection Direct Selling)

Telemarketer (Cool Pixels)
Viray likewise taught English as a Second Language (ESL) at RareJob Philippines (role: Business English Teacher) and Bizmates Philippines (role: Business English Trainer).
In the world of social media, she got hired to be a part of the Team Support at REJS, an Australian company in Brisbane. There she handled the company's social media presence.
The following companies employed her as Social Media Strategist:
Black Tie Concepts

TeleWorkPH

Uthermic
As of this writing, Grace Alviar Viray is the managing director of iThrive Virtual Assistants, a business consulting and services in Davao that she and her husband put up in April 2020.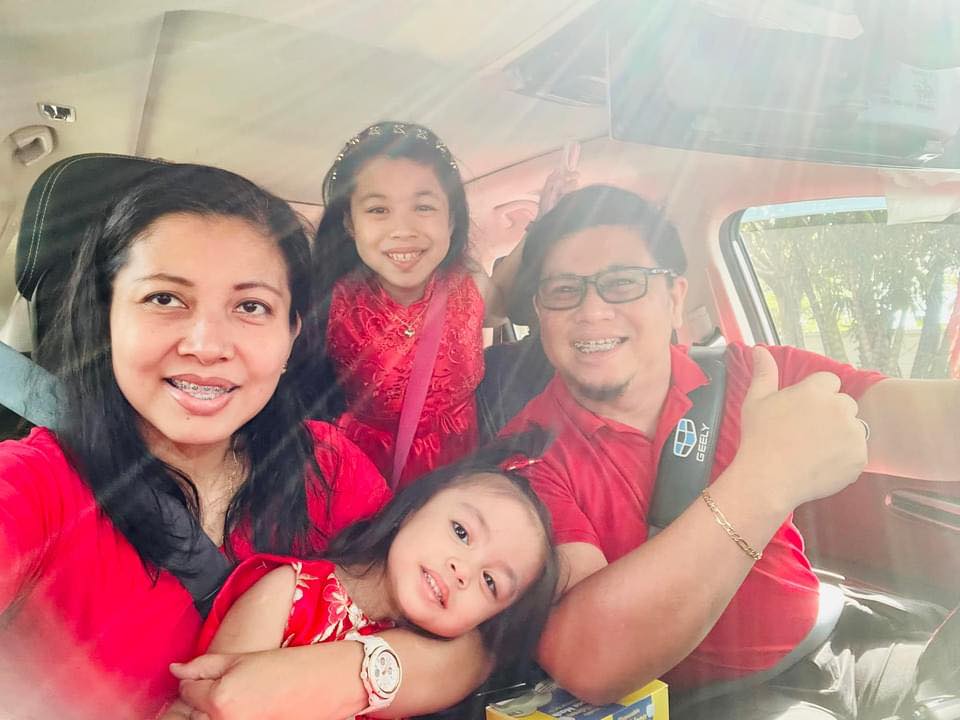 Grace Alviar Viray, her husband and two daughters all in red clothes taking a selfie while inside a car
Based on her LinkedIn profile (253 followers; 254 connections), the first professional experience of Grace Alviar Viray as a writer was with
Kicker Daily News
.
She worked there as a news article writer (Philippine and global news) from October 2014 to August 2015.
Other companies that signed her up as a writer were:
Elite Readers

RachFeed

The Dailypedia
For two months, Grace Alviar Viray was a guest writer at Rach MD.
In addition to that, a U.S.-based digital marketing agency commissioned her as a copywriter. Moreover, she curated and proofread articles for Hong Kong-registered Drupx Limited.
Furthermore, she worked as a virtual assistant (role: Team Lead and General Virtual Assistant) for a group of Australian companies.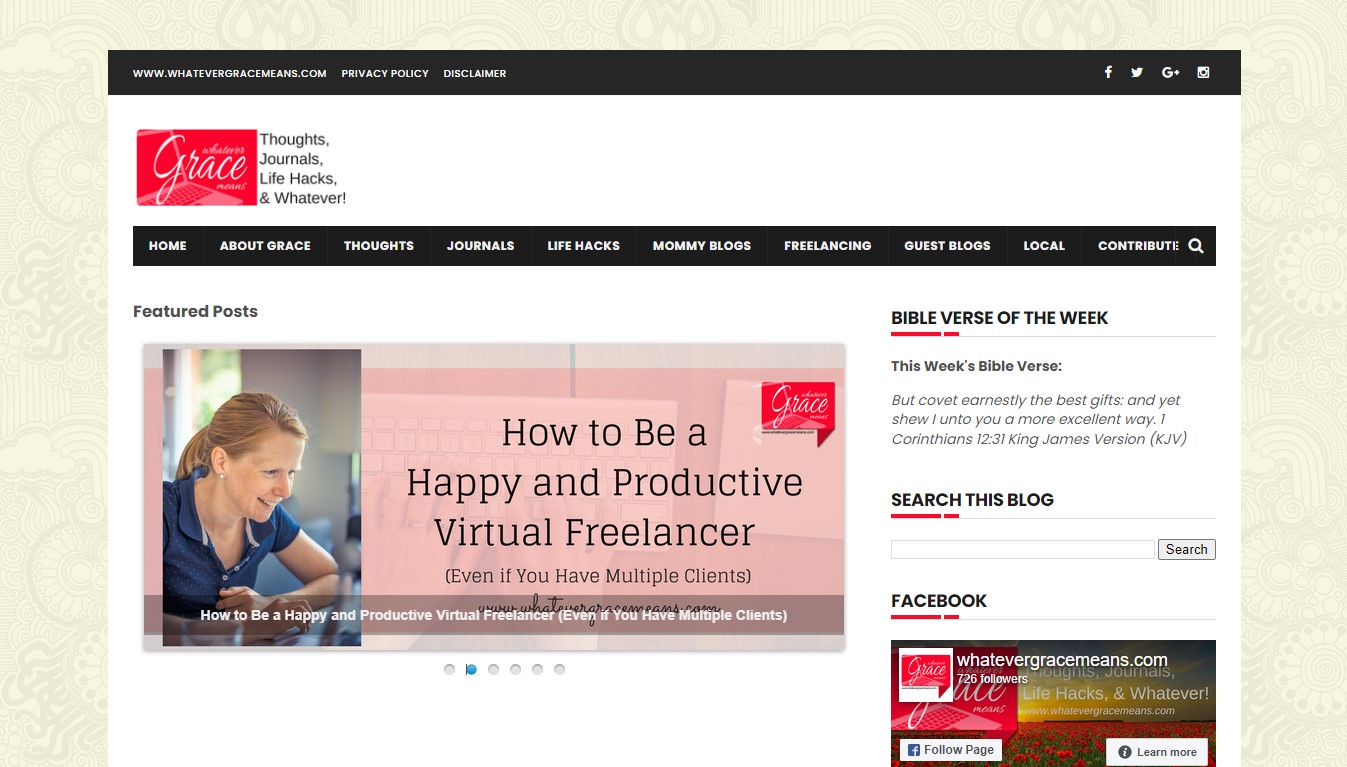 Homepage of whatevergracemeans.com, with an article titled 'How to be a Happy and Productive Virtual Freelancer'
At present, she continues to manage two blogs/sites:
a.
Whatever Grace Means
(www.whatevergracemeans.com)
According to its "About" section
, this one is her personal blog about "thoughts, journals, life hacks and whatever!" She started it in April 2017, making it active for six years already.
Viray, who proclaims herself as an "inspirologist," invites people to check out her blog, writing:
"

"

Join me as I share with you moments of grace in my extraordinary, ordinary blessed life!

- Grace Alviar Viray
The Facebook Page of this blog has, as of publication, 726 followers and 735 "Likes." As for the blog itself, it has so far reached 80,111 views.
This blog has six categories:
thoughts (12 posts)

journals (9 posts)

guest blogs (9)

life hacks (3 posts)

freelancing (3 posts)

local (2 posts)
b.
Mommy's Tambayan
(www.mommystambayan.com)
Grace Alviar Viray created this blog "to inform and inspire Filipino mothers globally." It features mothers from different walks of life.
"Tambayan," as a noun, is a Filipino term for a peer group's favorite or usual hangout place.
In the blog's homepage, she indicated the main purpose of Mommy's Tambayan:
"

"

Inspiring and informing Filipino mommies whoever they are, whatever they do, and wherever they may be.

- Mommy's Tambayan by Grace Alviar Viray
Grace Alviar Viray is a member of Mommy Bloggers Philippines.
motherhood

parenting

family life

other related topics
It was founded in 2011 by Janice Villanueva, a mother of three. She wanted to connect with other moms and provide a platform for them to share their stories and support each other.
Since its inception, Mommy Bloggers Philippines has grown to become one of the largest and most active communities of mommy bloggers in the country, with over 700 members from all over the Philippines.
Members of the community come from various backgrounds and have different parenting styles, but they all share a passion for writing and a desire to connect with other moms.
Mommy Bloggers Philippines regularly organizes events and activities for its members, such as workshops, product launches, and family outings.
This video is unavailable
The community also partners with brands and companies that cater to moms and families, providing them with opportunities to collaborate with bloggers and reach their target audience.
Aside from providing a platform for moms to share their stories and connect with each other, Mommy Bloggers Philippines also advocates for causes that benefit moms and children.
The community has partnered with organizations such as World Vision and Childhope Asia to support their programs for underprivileged children.
Overall, Mommy Bloggers Philippines is a supportive and empowering community of moms who are passionate about motherhood and sharing their experiences with others.
Grace Alviar Viray wrote several articles ranging from educational to inspirational.
a. At
Dailypedia
(Philippine news)
b. At
Elite Readers
(news and entertainment website):
c. At
RachFeed
(news and entertainment site):
d. At
Talk Personal Growth
(a site from Oslo, Norway):
Unfortunately, as of this writing, dealztap.com, kickerdaily.com (Kicker Daily News), and rachmd.com are no longer around, where Grace Alviar Viray also contributed articles.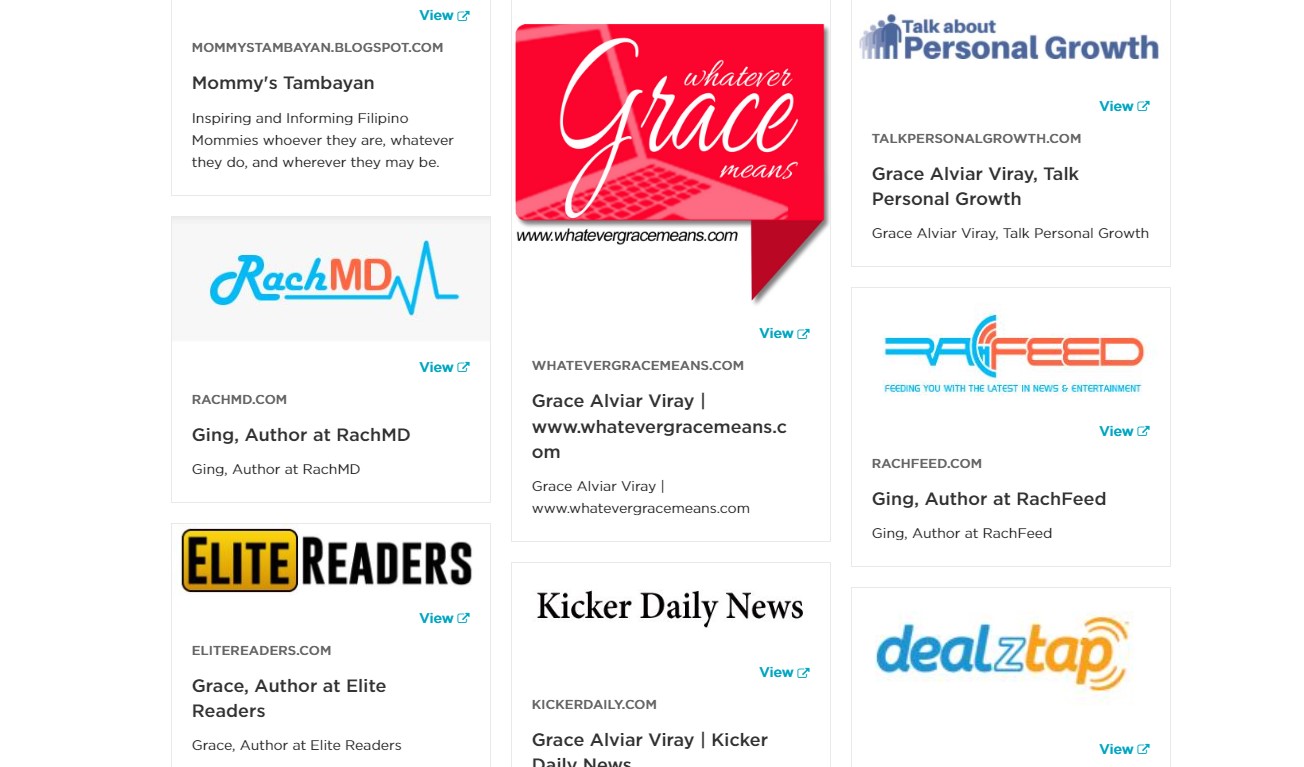 Different websites that Grace Alviar Viray appeared as a writer, including Elite Readers and RachFeed
The term "mommy blog" is often used to refer to blogs that are primarily written by women who are mothers. Posts are typically about a mother's experiences with parenting, family life, and motherhood in general.
Additionally, these blogs often include personal stories, parenting tips and advice, product reviews, and other topics related to motherhood.
Yes, mom blogs can make money through various methods, such as affiliate marketing, sponsored content, advertising, and selling products or services (e.g., e-books, courses, or coaching services).
According to an article published by Press Farm in November 2022, the top five mom bloggers on a top-40 list it provided were:
InspiringWomenToday.biz (the site is already down) once featured Grace Alviar Viray in an article titled, "Juggling a Virtual Career while Being a Full-time Wife and Mom."
Well, having a career as a mother can be daunting and exhausting, which could explain why several mothers opt to quit their jobs once the baby arrives.
Grace Alviar Viray is definitely one of those exceptions.