Kim Jong Un Examines Missile Test As Regional Rivals Meet And Kick Off Joint Military Drills
Kim Jong Un examines missile test as regional rivals meet and kick off joint military drills. On Monday, official media in North Korea revealed photographs showing leader Kim Jong Un inspecting a missile launch.
This came only a few days after its regional adversaries conducted a historic meeting, and it comes as joint military drills between the United States and South Korea get underway nearby. In a statement, the Korean Central News Agency (KCNA) said that Kim was there to see the launch of strategic cruise missiles from a patrol ship that belonged to the North Korean Navy's East Sea Fleet.
These missiles were launched from a location in the East Sea. KCNA said that while on board the patrol ship, Kim examined its weaponry and its readiness for war. He lauded the ship for its ability to retain high mobility and strong striking force as well as perpetual readiness for combat to deal with unexpected situations.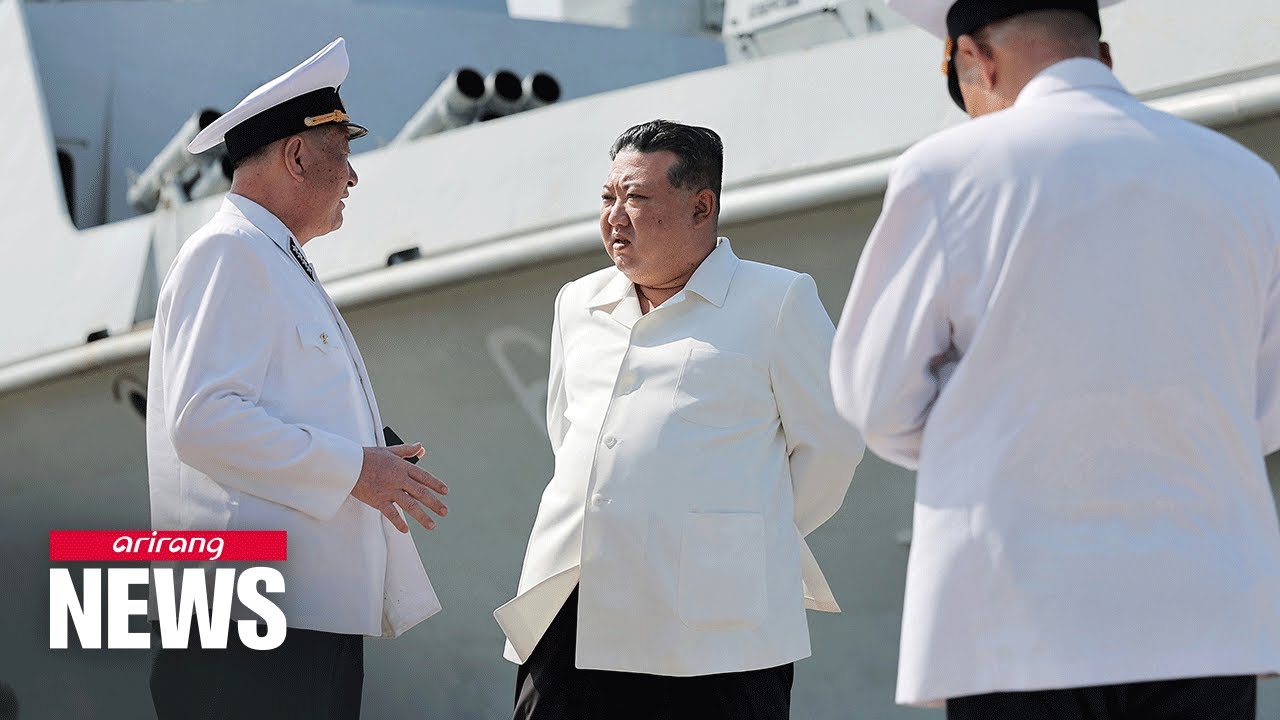 N. Korea's Kim Jong-un oversees "strategic cruise missile" test from navy ship, as S. Korea ...
In addition, it was stated that the missile test illustrated the capabilities of the ship and trained the crew members to carry out the attack mission in the event of a genuine conflict.
COPYRIGHT_KICK: Published on https://kickerdaily.com/kim-jong-un-examines-missile-test/ by - on 2023-08-22T08:08:01.671Z
Photos that were provided by KCNA show Kim on the ship deck wearing a white and black outfit and standing with his hands on his hips next to sailors who are dressed in uniform. Other photographs document the actual launch of the missile, which can be seen emerging from the smoke-filled vessel from which it was launched.
Despite the fact that the article did not identify the date of the test, KCNA published the photographs on Monday — just a short time after the leaders of South Korea, Japan, and the United States made a commitment to build a stronger alliance during the very first stand-alone trilateral meeting on Friday.
Following their discussion, which took place at the presidential retreat of the United States, Camp David, the three heads of state made the following joint statements: they agreed to hold yearly military drills and exchange intelligence; they also declared their intention to establish a trilateral hotline.
Even if the meeting did not result in a three-way collective defense pact, it did serve as a show of force against the provocative actions of North Korea as well as China's military and economic aggressions.
In their joint statement, the three presidents reaffirmed their demand that North Korea be denuclearized, asking the reclusive nation to "abandon its nuclear and ballistic missile programs," and expressing their disapproval of North Korea's "unprecedented number of ballistic missile launches."
Joe Biden, the President of the United States, also took a veiled shot at Beijing's influence when he pledged the support of the three countries "for international law, freedom of navigation, and a peaceful resolution of disputes in the South China Sea," as well as "our shared commitment to maintain peace and stability in the Taiwan Straits and address economic coercion."
China replied with a blistering statement on Monday, accusing the three countries of "deliberately sowing discord in China's relations with its neighbors." Wang Wenbin, a Foreign Ministry official, asked the US to avoid "tarnishing China's image," adding that authorities had submitted concerns with the parties involved.
"

"

The Asia-Pacific region is a high ground for peaceful development and should not become a boxing ring for the big powers, let alone a battleground for cold and hot wars.- Wang Wenbin
North Korea's missile launch also coincides with the start of large-scale joint military exercises between the United States and South Korea on Monday, which will last ten days.
In recent years, the United States and South Korea have boosted military and economic cooperation, coming closer together in the face of mounting Indo-Pacific threats — especially as North Korea has swiftly stepped up its own nuclear testing program.
The Joint Chiefs of Staff of South Korea likewise labeled official media coverage on the missile launch excessive and, in many cases, inaccurate. It went on to say that Seoul and Washington were both keeping a close eye on Pyongyang's activities, and that the South Korean military was prepared to "respond to any provocation by North Korea."
On Sunday, South Korean authorities stated that they had received evidence that North Korean hackers had attempted to breach a firm connected to the military drills earlier this year, but had failed. A new incident involving suspicious emails from July is being looked at by South Korean and US authorities ahead of the start of joint drills on Monday.
Share:
Twitter

|
Facebook

|
Linkedin