On Saturday, a small explosive device was thrown at Kishida while he was campaigning for the ruling party's by-election candidate in the port city of Wakayama in western Japan. He had to stop a speech he was giving because of this.
Nine months before the attack, former Prime Minister Shinzo Abe was killed when a man with a homemade gun shot him at a political rally. The assassination shocked Japan and led some people to question whether there was enough security.
Police told CNN that early Sunday morning, investigators looking into the attack on Saturday searched the home of Ryuji Kimura, 24, in the city of Kawanishi in Hyogo Prefecture.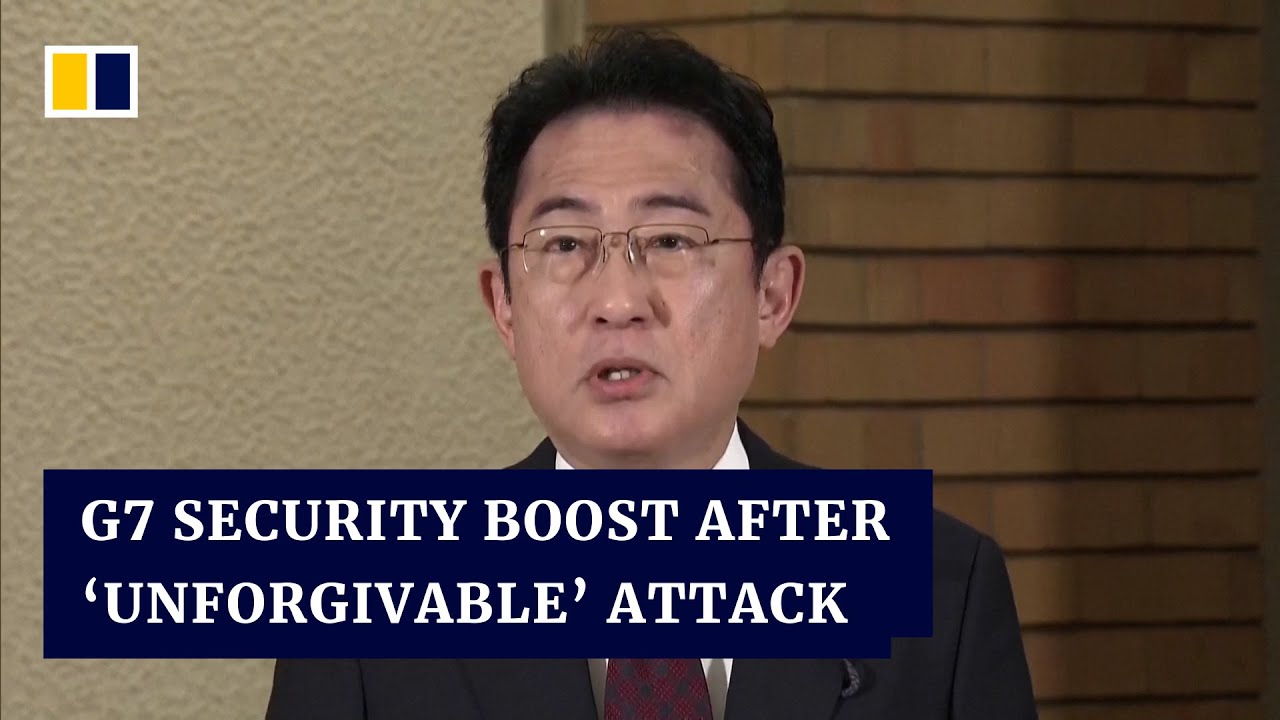 Heightened security at G7 meetings after apparent smoke bomb attack on Japanese PM
Police said they found two cylindrical pipes at the scene of the explosion. One of them had exploded, and the other one was not used. The suspect also had some kind of powder, tools, a computer, a cell phone, and a tablet taken away from him.
In an operation that ended around 9 a.m. local time, they also took out more than 10 cardboard boxes that they thought might contain relevant materials.
A dramatic video of the attack showed that a silver cylinder was thrown at Kishida and rolled across the floor. A bodyguard then rushed to kick the object away from the prime minister and use a shield to protect him.
A lot of noise came from the crowd as a man tried to run away before he was caught. A loud blast set off smoke a few seconds later.
The man was taken into custody at the scene and taken to the Wakayama West Police Station to be questioned about "suspicion of forcible obstruction of business." "Forcible obstruction of business" is a crime in Japan. This means "to obstruct another person's business by force." It can get you up to three years in prison and a fine of 500,000 yen, which is about $3,735.
Even though Kishida was evacuated without harm, the attack made me feel like I was reliving Abe's murder during a campaign speech in the city of Nara in the West. Abe's death shocked a country that doesn't usually think of political and gun violence.
Kishida said he called the local fisherman's association in Wakayama on Sunday to thank them for helping catch the suspect before the police did.
The Prime Minister said that Japan must do everything it can to keep foreign dignitaries safe when they come to Hiroshima from May 19 to 21 for G7 meetings. Kishida said on Sunday:
"

"

Japan as a whole must strive to provide maximum security during the dates of the summit (in Hiroshima next month) and other gatherings of dignitaries from around the world.

- Kishida
His comments came as foreign ministers from the G7, including US Secretary of State Antony Blinken, started three days of talks in the town of Karuizawa, Nagano prefecture, in central Japan.