15 Thrilling Things To Do In Melbourne At Halloween Event
If you're looking for spooky and fun like things to do in Melbourne at Halloween event, there are plenty of options available. From haunted tours to themed parties, there is something for everyone.
In this article, we will explore some of the best things to do in Melbourne at Halloween event, so you can make the most of the spooky season in this vibrant Australian city.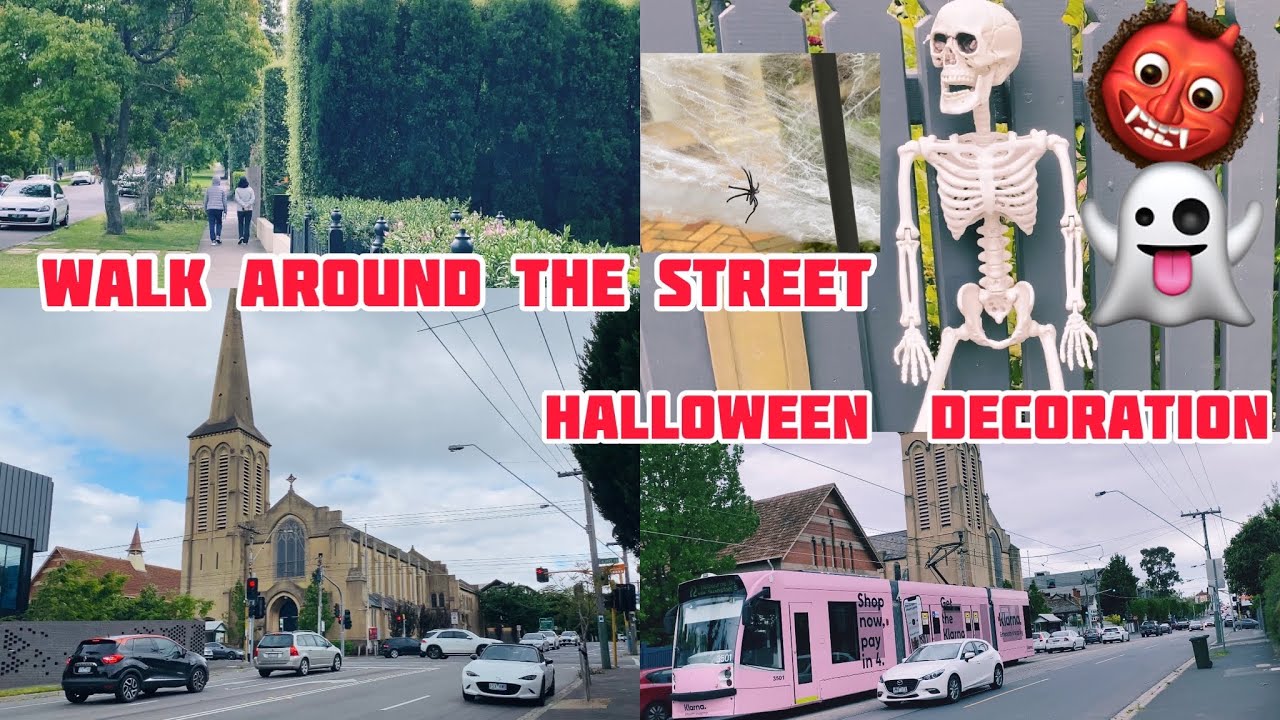 Halloween Decoration | Walk Around The Street Melbourne Australia
Luna Dark is an annual Halloween festival held at Luna Park, one of Melbourne's most iconic amusement parks. The festival runs for several nights leading up to Halloween and offers visitors the chance to experience a range of spooky attractions.
COPYRIGHT_KICK: Published on https://kickerdaily.com/things-to-do-in-melbourne-at-halloween-event/ by - on 2023-05-25T10:29:40.868Z
Luna Dark's main drawcard is its haunted houses, which are themed around different horror genres and feature live actors and special effects.
In addition to the haunted houses, there are also scare zones throughout the park, as well as rides and games with a Halloween twist. Luna Dark is a popular event for both thrill-seekers and families looking for a spooky night out.
For a truly spine-chilling Halloween experience, take a tour of Melbourne's historic laneways and alleys on the Old Melbourne Ghost Tour. Led by a knowledgeable guide, the tour takes you through some of the city's oldest and most haunted areas, where you'll hear tales of murder, mayhem, and paranormal activity.
The tour runs at night, adding an extra layer of creepiness to the experience. Highlights of the tour include the Princess Theatre, which is said to be haunted by a famous opera singer, and the City Morgue, which was once used to store corpses and has its own eerie stories to tell.
Boneo Maze, located on the Mornington Peninsula, hosts a family-friendly Halloween event called the Halloween Spooktacular. The event runs for several nights leading up to Halloween and includes a range of activities for kids and adults.
Visitors can take part in pumpkin carving, trick or treating, and a themed maze. There are also live performances, face painting, and a costume parade. The Halloween Spooktacular is a great way to celebrate Halloween in a fun and festive environment.
The Melbourne Zombie Walk is an annual event that takes place in the city's CBD on the weekend before Halloween. Participants dress up in zombie costumes and makeup and walk through the city streets in a slow, staggered fashion, creating the illusion of a zombie horde.
The Zombie Walk is a free event, but participants are encouraged to make a donation to charity. The event has grown in popularity over the years and attracts thousands of zombie enthusiasts from all over Melbourne.
The Astor Theatre in St Kilda is known for its love of classic horror movies, and Halloween is the perfect time to indulge in this passion.
The theatre hosts an annual Halloween Horror Movie Marathon, which typically includes a lineup of classic horror films shown back-to-back throughout the night.
Past marathons have featured films like Night of the Living Dead, Psycho, and The Exorcist. The event attracts horror fans from all over Melbourne who are looking for a fright-filled night out.
Pentridge Prison, located in the Melbourne suburb of Coburg, is one of the city's most notorious and haunted locations. It has a rich history dating back to the mid-19th century and was once home to some of Australia's most dangerous criminals.
Today, visitors can take a ghost tour of the prison, which is said to be haunted by the spirits of former inmates. The tours are led by experienced guides who share the history and paranormal experiences of Pentridge Prison.
Werribee Open Range Zoo is hosting a Halloween event for families to enjoy. During the event, visitors can go on a spooky safari and encounter eerie creatures along the way.
There will be trick or treating, face painting, and other activities for kids to enjoy. In addition, there will be a special Halloween-themed menu at the on-site restaurant, so visitors can enjoy a meal before or after the safari.
Melbourne is known for its vibrant nightlife, and Halloween is no exception. Many bars and nightclubs around the city host Halloween costume parties, complete with spooky decor and themed drinks.
Some popular venues include The Emerson, Ms Collins, and Alumbra. Visitors can dress up in their scariest costumes and dance the night away.
Rippon Lea Estate is a historic mansion located in the Melbourne suburb of Elsternwick. The mansion was built in the 19th century and has a rich history. It is said to be haunted by the ghosts of former residents and staff members.
Visitors can take a ghost tour of the mansion and grounds, where they will hear spooky stories and learn about the paranormal activity that has been reported at Rippon Lea Estate.
Royal Melbourne Hotel is hosting a Halloween party for adults, featuring live music and entertainment.
The event will take place across three levels of the venue and will include a costume competition, where visitors can win prizes for the scariest or most creative costume. There will also be Halloween-themed cocktails and snacks available for purchase.
The Puffing Billy Railway in Melbourne hosts a special Halloween-themed ghost train event each year. Visitors can ride the train through the Dandenong Ranges, which are said to be haunted by ghosts and ghouls.
During the ride, guests will encounter spooky surprises and jump scares. The event is family-friendly and suitable for all ages.
Escape rooms are a popular activity in Melbourne, and during Halloween, many venues offer special spooky-themed rooms.
These rooms are designed to be more challenging than typical escape rooms and feature scary surprises and puzzles to solve.
Some popular venues include The Mystery Rooms, Escape Hunt Melbourne, and The Escape Room Melbourne.
Melbourne has several haunted house attractions that are open during Halloween. These attractions feature actors dressed in scary costumes who jump out and scare visitors.
Some popular attractions include The House of Horrors and Haunted Spirits at Luna Park, Twisted Minds Haunted House, and The Asylum at The Old Melbourne Gaol.
The Langham Hotel in Melbourne hosts a Halloween-themed afternoon tea event each year. The event features spooky treats, such as spiderweb macarons and pumpkin scones, and Halloween-inspired tea blends.
Guests can enjoy their tea in the hotel's elegant dining room, which is decorated with Halloween decor. The event is suitable for all ages and is a fun way to celebrate Halloween in style.
Trick or treating is a popular Halloween activity for kids in Melbourne. Many neighborhoods around the city decorate their homes with Halloween decor and hand out candy to trick or treaters.
Some popular areas for trick or treating include Carlton, Elwood, and Malvern. Visitors should be mindful of local customs and only visit homes that are participating in the tradition.
One popular event is the Luna Dark Halloween festival at Luna Park, which includes haunted houses, scare zones, and rides.
Other popular events include the Melbourne Zombie Walk and the Halloween Horror Movie Marathon at the Astor Theatre.
Yes, there are several family-friendly Halloween events in Melbourne, such as the Halloween Spooktacular at Boneo Maze, which includes pumpkin carving, trick or treating, and a maze. The Werribee Zoo also hosts a Halloween-themed event with activities and entertainment for all ages.
Yes, there are several haunted tours available in Melbourne during Halloween, such as the Old Melbourne Ghost Tour, which takes you through the spooky laneways and alleys of the city's historic district.
Another popular option is the Pentridge Prison Ghost Tour, where you can explore the eerie ruins of a former prison.
Yes, there are many Halloween-themed parties and events in Melbourne, including costume parties at various bars and nightclubs, as well as larger-scale events like Halloween Hysteria at the Royal Melbourne Hotel.
For a unique Halloween experience, you can visit the haunted Rippon Lea Estate for a night of ghost stories and paranormal investigations. Another unique activity is the Halloween Ghost Train, which takes you on a spooky ride through the Dandenong Ranges on an old steam train.
Melbourne offers a wide range of activities and events during the Halloween season, providing plenty of opportunities for spooky fun.
From haunted tours and ghost walks to Halloween-themed parties and festivals, there is something for everyone to enjoy. Whether you prefer to embrace the creepy atmosphere or just enjoy the Halloween festivities, Melbourne has it all.
So, get into the Halloween spirit and explore many things to do in Melbourne at Halloween event.
Share:
Twitter

|
Facebook

|
Linkedin