What are the disadvantages of using Whatsapp
? Despite how ground-breaking this software is, there are some significant issues with it. One particular reason stands out as the main deterrent to using WhatsApp which we will discuss later.
First, let me give you a quick rundown of WhatsApp's features for those of you who haven't tried it yet. Next, we'll talk about the most important question, "What are the disadvantages of using Whatsapp?"
With WhatsApp, you may make and receive calls and messages across other apps over wifi. The only expense associated with utilizing the app is the cost of internet connectivity, which is free to download.
One of the many apps that use VoIP technology to enable texting and calling over the internet as opposed to a standard cellular network is WhatsApp.
The advantages of WhatsApp are as follows: as it uses the internet, you may contact or text anyone with WhatsApp for free, anywhere in the globe, whenever you have a connection. For instance, you're in luck if your hotel or restaurant offers free internet!
WhatsApp clearly has advantages. However, WhatsApp can have drawbacks as well. What potential drawbacks of WhatsApp might there be?
Erlang, the programming language used by WhatsApp, was said to be crucial to its success in 2015. For its 900 million users, WhatsApp only needed 50 engineers, the report claims.
WhatsApp remained at the top of everyone's most-used apps thanks to Erlang's exceptional capacity to mix simplicity and large-scale infrastructure. Even though many alternatives have been developed, this has not altered to this day.
Only Android users have access to the majority of the add-ons that have helped address WhatsApp flaws like no auto-replies, dual-sim issues, and so forth. iOS users have never gotten first priority when there is a new gadget or gizmo available in WhatsApp. That might eventually cause issues for organizations that rely on iOS compatibility.
Even though WhatsApp has quick and flexible code, it hasn't been able to grow in two important ways: browsers and iOS compatibility. Anyone involved in a workflow is aware that sticking with a single device would be simpler.
Switching back and forth between a laptop, phone, and tablet might get rather annoying. With WhatsApp Web, you can remain concentrated and be very productive.
By just scanning a QR code with your phone, WhatsApp Web is supposed to be able to replicate the chats you have on your mobile device. No name, number, or password would be required.
Unfortunately, simplicity is never free. WhatsApp Web cannot be used without the mobile WhatsApp program installed on your phone. For WhatsApp Web access, you'll always need power, Wi-Fi, and/or data.
There is no other way to access WhatsApp Web if you have to rush off to the office without your phone and are just carrying a PC.
If your internet connection is unreliable, this could force you to repeatedly scan the QR code every five minutes, which is a more prevalent and important problem.
Your data usage and recurring phone costs may both significantly grow as a result of your dependency on your phone's internet connectivity.
If WhatsApp Web had more features, the aforementioned issues might have gone unnoticed.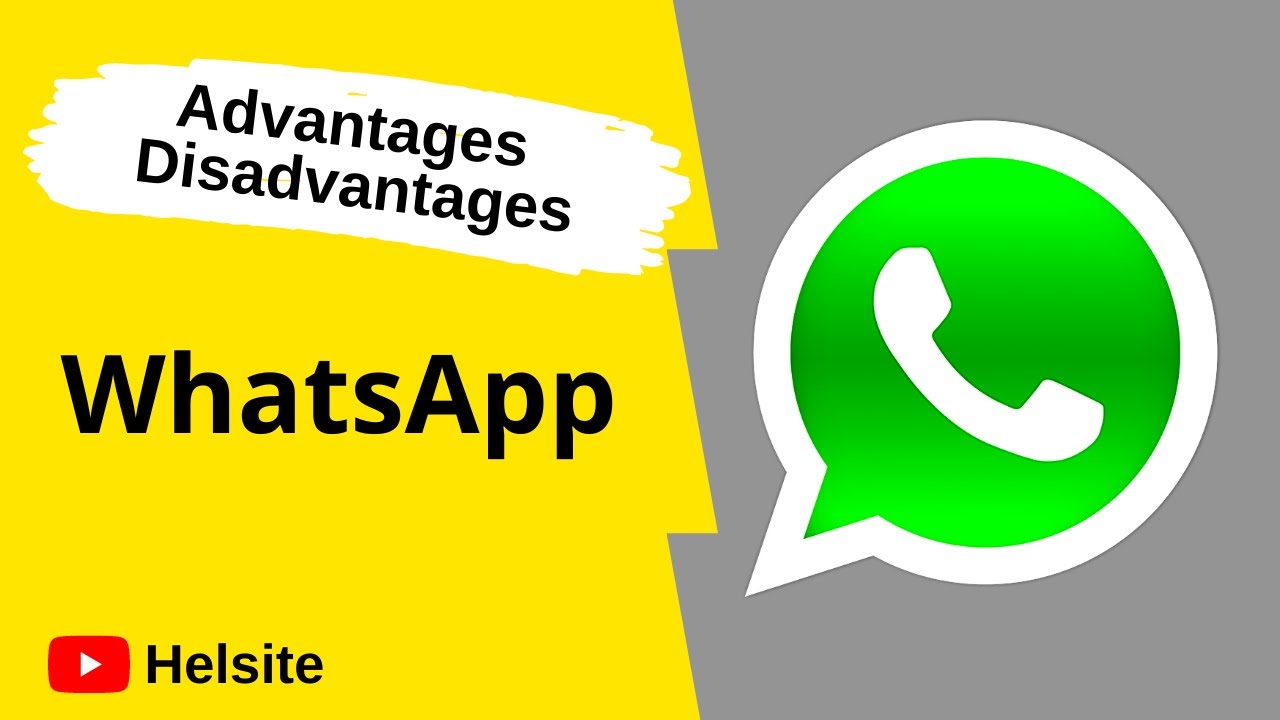 Advantages & disadvantages of WhatsApp | Pros & Cons | Merits & demerits of WhatsApp | Helsite 2021
It lacks some essential functionality when compared to its original mobile app, including the ability to delete and forward messages as well as the straightforward ability to join and leave groups.
It's amazing that, despite being introduced in 2015, WhatsApp Web has only ever been accessible through Google Chrome. If any devoted Safari users out there want to use WhatsApp, they'll have to swallow the bullet and sign up for more Google services.
Naturally, there are a ton of unapproved add-ons and widgets you can use to improve your WhatsApp experience, but WhatsApp can occasionally screen you for using third-party apps and prohibit you if you do.
Additionally, the app may temporarily ban you if it suspects you of sending too many messages to too many groups due to its issues with spam and data security.
If you use it for business, you can be sending out mass emails and organizing your wedding when you wake up to the annoyance of being cut off from your customers and family members.
It's not surprising that WhatsApp's critics focus on its erratic security. It is clear that WhatsApp needs to do a lot more in this area due to significant breaches, shady links, and the growth of disinformation and conspiracy theories.
What better evidence could there be than to observe how its rivals (Telegram, Signal) are focusing on this weak point and positioning themselves as safer and more secure solutions at a time when a worldwide pandemic has just demonstrated how heavily we rely on digital tools to stay connected.
Acton, the creator of WhatsApp, invented Signal, which is promoted as a safe and more private form of instant messaging, adding to the questionable reputation WhatsApp has in terms of security.
In fact, Telegram grew to over 70 million users after WhatsApp crashed for 7 hours in October 2021. After a number of violent lynchings in India and the scary storming of the US Capitol, Facebook has been criticized for making it easy for false information to spread quickly and affect whole communities.
As all WhatsApp conversations are encrypted from beginning to end, it's a safe messaging program to use. Encrypting your WhatsApp backup is a simple way to protect your data from prying eyes.
End-to-end encryption is a feature of WhatsApp that has been heavily promoted because it ensures that only the sender and the recipient can read a conversation. WhatsApp has the largest user base, but there are also more apps that allow end-to-end encryption, including iMessage and Signal.
Disappointingly, only Google Chrome is supported. WhatsApp's online client only supports sending text messages, not audio or video. In contrast to the mobile version of WhatsApp, the desktop version does not allow for profile changes or conversation deletion.
Customer questions can only be answered by five individuals.

Only 256 contacts can be added to a broadcast list.

There are no stats or reports.

There is no CRM platform integration.

limited possibilities for automation.

Data security cannot be guaranteed.
As with every well-functioning system, there comes a point where we must step back and conduct a critical analysis and the same goes for Whatsapp.
Despite its popularity, WhatsApp may no longer be the ideal option for organizations looking to enhance their internal communication systems.
So, what are the disadvantages of using Whatsapp? The drawbacks of WhatsApp are getting worse by the day due to a growing list of security flaws, lax data protection, a subpar web interface, and a slow response time to user requests.