Do you want to know
where to donate used clothes, books, furniture, and toys in Singapore
?
Singaporeans are known for their generosity and willingness to help those in need, making donation drives an effective way to provide aid and assistance to those who require it.
These people from the Lion City, for example, raise funds for medical treatments and collect food and clothing for the less fortunate.
Donation drives play a crucial role in building a more compassionate and caring society in Singapore.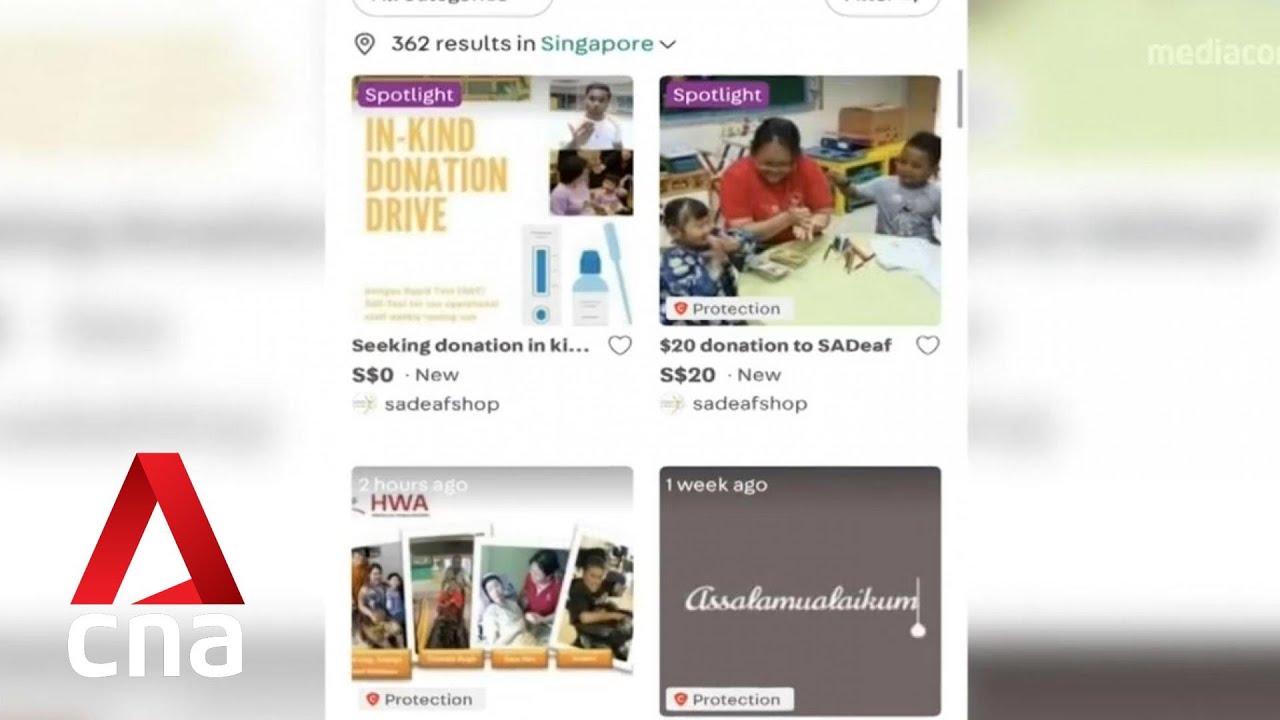 More people in Singapore donating, volunteering online amid COVID-19 pandemic
Singaporean organizations embarking on donation drives is only but a common occurrence, especially during times of crisis or in the aftermath of a disaster.
These drives are often organized by non-profit organizations, charities, or community groups to raise funds, collect goods, or provide support to those in need.
For you to know where to donate used clothes, books, furniture, and toys in Singapore, we listed down some of the
donation drives
in the country.
Cloop is a social enterprise that aims to promote sustainable fashion by reducing textile waste.
The company was founded in 2018 by a group of individuals who are passionate about creating a more sustainable and ethical fashion industry.
One of the unique features of Cloop is its "Cloopservation Program."
Through this endeavor, it partners with corporations and organizations to collect textile waste generated from their operations and repurpose them into new products.
Cloop also has a strong social mission and works with marginalized communities such as women in prison and refugees. It provides them with training and employment opportunities in the fashion industry.
This is one place where you can donate used clothes in Singapore.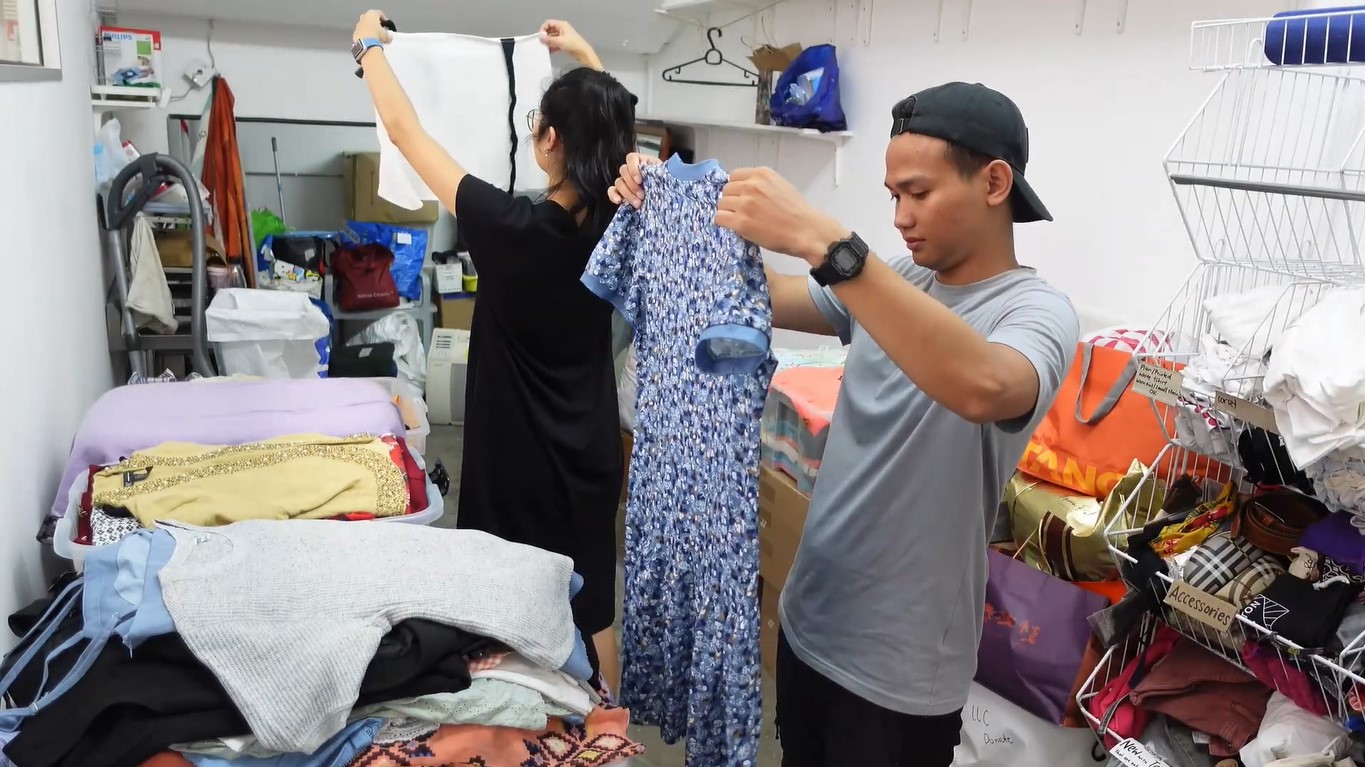 A young adult male and female Singaporean volunteers inside a Cloop storage room checking out donated clothes
bags

bed sheets

caps

clothes

household linens

shoes

stuffed toys
For those in Singapore, Cloop placed 100 yellow chute/wheel bins in different parts of the country to serve as drop-off points for donations.
Some of these bins that can be publicly accessed 24/7 are in these places:
| | |
| --- | --- |
| Location | Address |
| Ang Mo Kio Town Council | Fernvale Road |
| Citibank Changi Business Park | near Changi Airport |
| Eunos Damai Ville | Jalan Tenaga |
| Farrer Park Gardens | Dorset Road |
| Hougang Neighborhood Park | Hougang Avenue 5 |
| Mount Elizabeth Novena Hospital | Irrawaddy Road |
| Nee Soon East Courtyard/Seniors' Hub | Yishun Street |
| Ngee Ann Polytechnic | Clementi Road |
| Raffles Girls' Primary School | Hillcrest Road |
| Singapore General Hospital | Bowyer Block, Carpark C |
Those bins that can only be accessed privately (e.g., by residents, students, or employees only) are in:
| | |
| --- | --- |
| Location | Remarks |
| Dairy Farm Estate | next to the Function Room |
| Micron Building | near the car park and locker |
| Nexus International School | beneath the stairways facing the field |
| Singapore Polytechnic | outside Food Court 5 and T11 Square |
| The Interlace | at the basement parking near the ramp |
| Under Armour | Suntec Tower One - Level 25 |
This is a project started in 2015 by the social organization Project Dignity to empower low-income and marginalized women in Singapore.
A. To make said women become financially independent
1. to provide them with a source of income
2. to teach them the skills and other know-hows they need to put up and run a business
3. to guide them how to manage their finances
B. To raise awareness about the issues they faced
Specifically, through Dignity Mama, these women are trained in cooking and food preparation. They are also provided with the necessary equipment and resources to set up their own food stalls.
This is one organization on where to donate used books in Singapore.
Per 8days.sg, the following books are accepted:
adult fiction

children's books

non-fiction books on various topics (e.g., business, wellness, photography, computer science)
Non-English books are accepted on a case-by-case basis.
Don't donate any of these books; they will not be accepted:
banned books

books with controversial content

books with sexual content

political books

religious books

science fiction books
Dignity Mama booths, where the books should be dropped off, are found here:
| | |
| --- | --- |
| Location | Address |
| National University Hospital | 5 Lower Kent Ridge Road |
| Ng Teng Fong General Hospital | NTFGH Tower A at No. 1 Jurong East Street 21 |
For those who wish to donate several books, each person is requested to place them in either a box (size: A4) or a grocery bag. Each day, an individual can donate up to three boxes/grocery bags of books only.
Another project that people can rely on regarding where to donate used clothes, books, furniture, and toys in Singapore is this one.
PassItOn.sg is a
non-profit platform
that aims to reduce waste and encourage sustainable consumption by facilitating the sharing of pre-loved items within local communities.
The platform (physical address: 819 Upper Serangoon Road) provides a marketplace for people to give away or receive used items (but still in good condition) for free.
According to its website, it accepts different kinds of donations, particularly:
appliances and furniture

learning aids

medical aids (e.g., glasses, hearing aids)

mobility aids (e.g., canes, crutches, walkers, wheelchairs)
Once it receives the donated items, Pass-It-On will give them to charitable organizations (hence the name). Go to PassItOn.sg to donate (registration needed).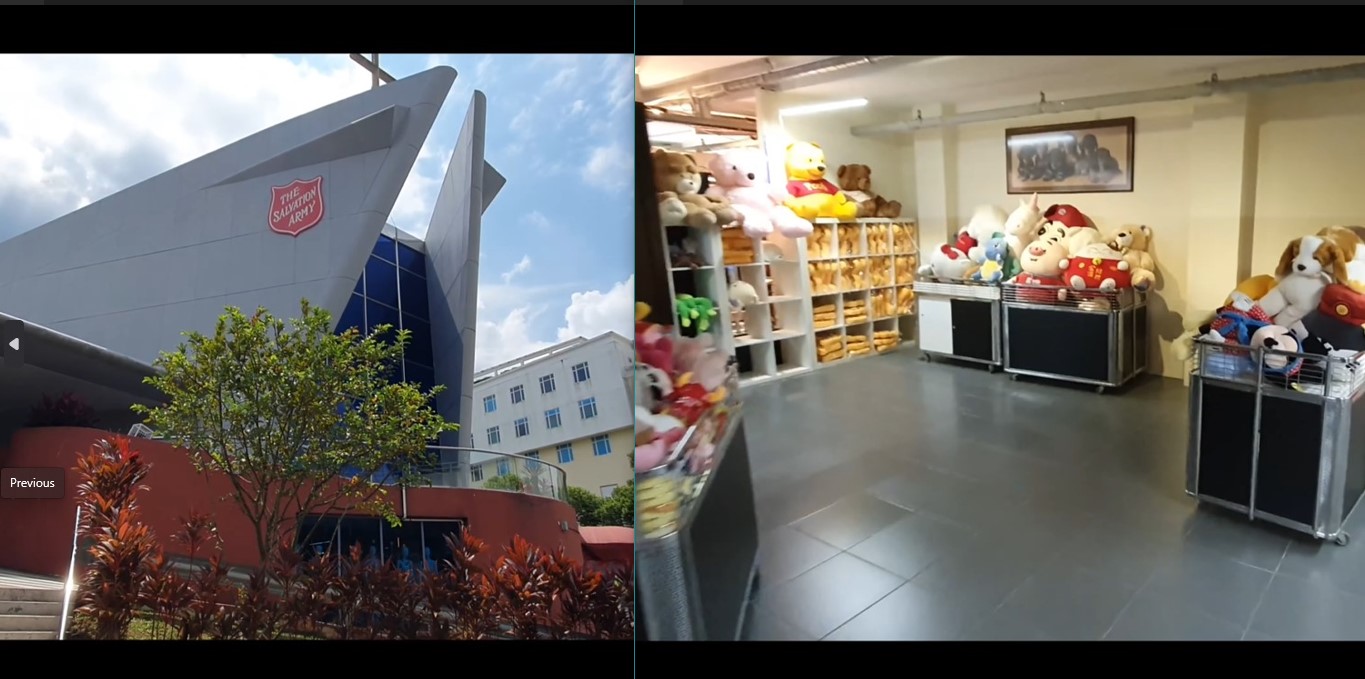 Salvation Army Singapore Praisehaven store in Bishan Street; inside the store, with donated stuffed toys
The Salvation Army is a worldwide Christian organization that operates in over 130 countries.
In Singapore, the Salvation Army has been active since 1935, providing a range of social services to those in need.
Where to donate used clothes, books, furniture, and toys in Singapore? Right here.
Salvation Army Singapore Central Corps is at 20 Bishan Street 22. Their donation booths can be found here:
| | |
| --- | --- |
| Location | Address |
| Gracehaven Fostering | 3 Lorong Napiri (off Yio Chu Kang Road) |
| IMM open-air car park | No. 2 Jurong East Street 21 |
| Mandai Station | 1 Mandai Link Road |
| One @ Changi City | 1 Changi Business Park Central 1 |
| Praisehaven Retreat Center | 500 Upper Bukit Timah Road |
| Tanglin Family Hub | 356 Tanglin Road (Queenstown) |
| The Haven | 350 Pasir Panjang Road |
| TSA Headquarters - Visitors Car Park | 20 Bishan, Street 22 |
This is a Facebook group that primarily caters to mothers and their child/children living in Singapore - regardless of their nationality - by providing them with a platform to:
share parenting experiences

seek advice

buy and sell items

connect with other mothers in the community
SG Mummies United was created on April 7, 2020. As of this writing, it has a total of 11,525 members, with 297 posts made in March 2023.
Per 8days.org, members are requesting donations for:
food

infant/baby milk

clothes

books

diapers
So, for those looking where to donate used clothes, books, furniture, and toys in Singapore, they may want to join this Facebook group to help needy mothers and their kids.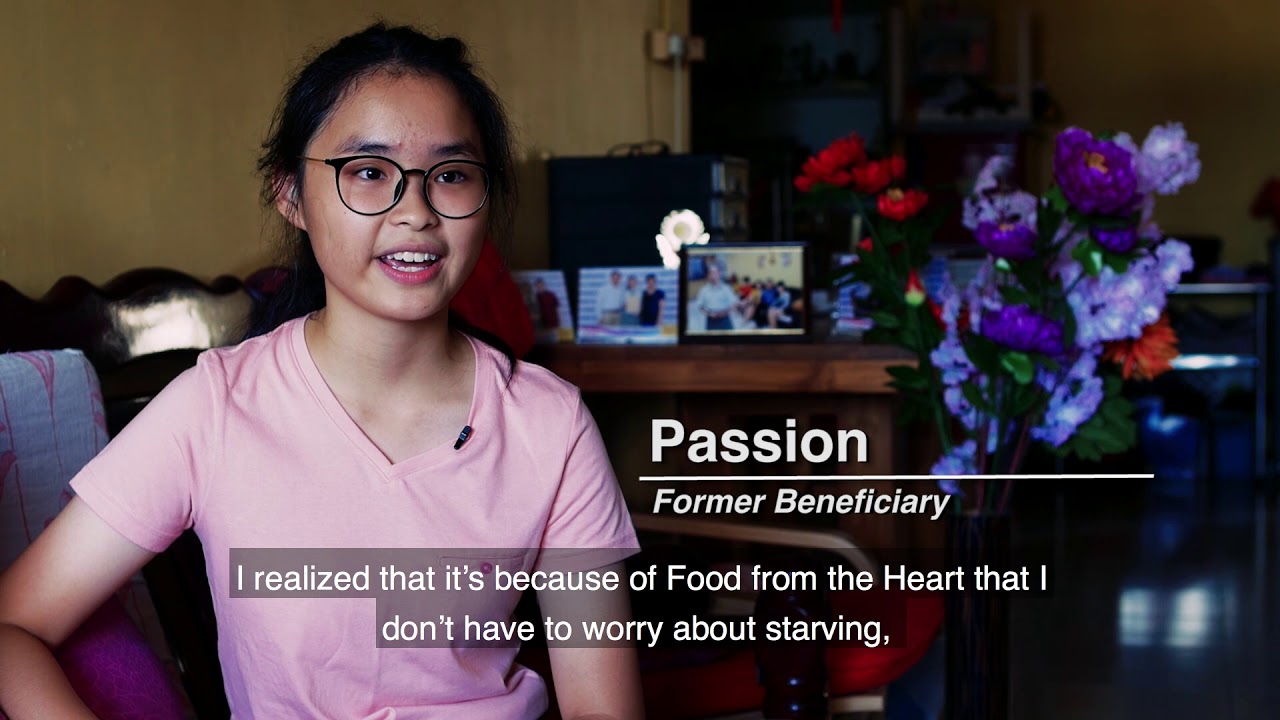 Food from the Heart, a Prominent Food Charity in Singapore (Corporate Video)
Never waste food. Hunger is a major global concern and not everyone gets the basic breakfast-lunch-dinner meals every day.
Where to donate food in Singapore? Check them out:
a.
Food Bank Singapore
(est. 2012; No. 218 Pandan Loop)
monetary donations via credit/debit card ($15, $25, $50, $100 or your preferred amount - go to https://donate.foodbank.sg)

several Shell gas stations in Singapore serve as collection points for food items
b.
Free Food for All
(est. 2015; No. 21 Chai Chee Road)
note: donate Halal-certified food items only

some of the requests: rice, fruits, vegetables, frozen seafoods
c.
Food from the Heart
(est. 2003; No. 130 Joo Seng Road #03-01)
for monetary donations and voluntary work, go to www.giving.sg

urgent items needed include: rice, cooking oil, canned goods
d.
Willing Hearts
(11 Jalan Ubi, #01-31, Block 4)
a soup kitchen (daily operation)

donate and/or volunteer

volunteer at these times: (a) 5 a.m. to 9 a.m.; (b) 9-1 p.m.; (c) 1-5 p.m.
There are several organizations on where to donate used clothes, books, furniture, and toys in Singapore.
As for furniture pieces, you may want to donate to any of them:
Green Warehouse

(facebook.com/groups/greenwarehouse)

Singapore Freecycle Network

(facebook.com/groups/sgfreecycle)

Singapore Red Cross Society

(https://donate.redcross.sg/srcchampion22)
At this point, you already have several references on where to donate used clothes, books, furniture, and toys in Singapore.
For toy donations, here are three more recommendations:
a.
Blessings in a Bag/BIAB
(Tan Boon Liat Building - 315 Outram Road, #08-06A)
to donate, email them at helloblessings@gmail.com for an appointment

in addition, email a picture of the toy(s) to be donated
b.
Boys' Town
(est. 1948; No. 624 Upper Bukit Timah Road)
for donation process inquiries, email them at info@boystown.org.sg

main office telephone number: +65 6690 5420 (Monday-Friday; 9 a.m. to 6 p.m.)
c.
Chen Su Lan Methodist Children's Home
(est. 1968; No. 202 Serangoon Garden Way, Singapore 556057)
donate in person (Monday-Friday, 9 a.m. to 6 p.m.)

send a cheque via mail or cash donations via PayNow (go to www.cslmch.org.sg/donate to scan the QR code)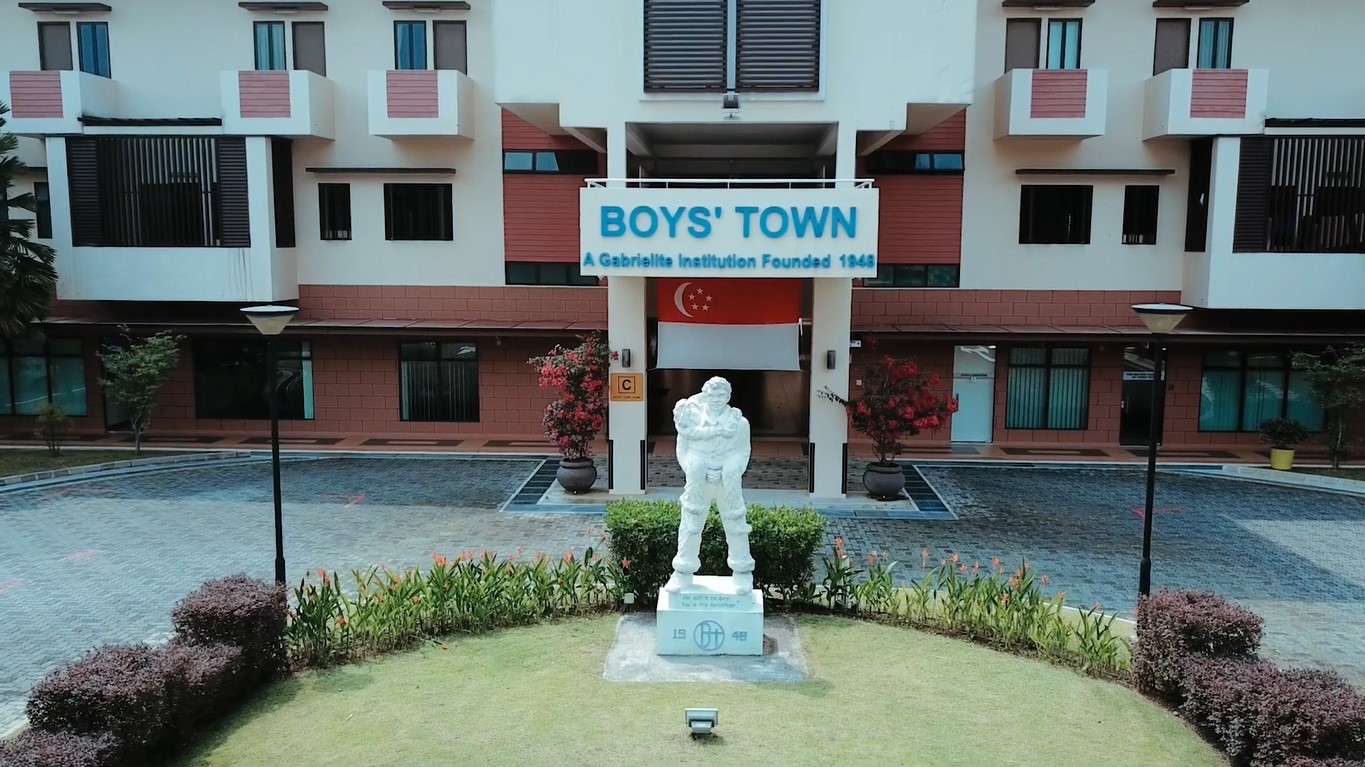 Façade of Boys' Town in Singapore, with a statue painted in white of a man carrying a boy on his back
Donate them at New2U, a thrift shop (96 Waterloo Street) run by volunteers from the Singapore Council of Women's Organizations (SCWO).
A portion of the sales is used for SCWO's operation and management of Star Shelter, a temporary housing for women and children who are victims of domestic violence.
According to the website of the country's National Library Board (NLB), headquartered in No. 100 Victoria Street, aside from books, it also accepts the following (print or digital):
Note: The NLB prefers to receive materials about Singapore and Southeast Asia. In addition, it stated on its website that it will not accept "materials in poor condition."
Yes, it does as it supports "recycling and repairing," according to its website.
Just hand over your old clothes to any personnel at the store's cash desk. As a token of appreciation, H&M will give donors a "thank-you voucher."
There are things in this world that are considered priceless.
It's important to note, too, that some of the things you don't want to be with you anymore - old textbooks, old clothes, your childhood toys - are needed by some who cannot afford to buy one.
Save this article to have a quick reference on where to donate used clothes, books, furniture, and toys in Singapore.