Decline Of Manny Pacquiao - Happening Faster Than Mayweather
For one retired referee, the decline of Manny Pacquiao appears to me quicker than that of one of his toughest opponents.
Joe Cortez, a veteran boxing referee recently declared that if Floyd Mayweather Jr. and Manny "Pacman" Pacquiao ever engage in a mega-fight inside the ring, his support will go to Mayweather.
In his personal analysis, Cortez, through a statement he issued, said that both superstar boxers are already waning in terms of their physical capabilities.
However, for Cortez, the decline of Manny Pacquiao tends to be faster than that of Mayweather's.
Floyd Mayweather vs Manny Pacquiao Full Fight Highlights
COPYRIGHT_KICK: Published on https://kickerdaily.com/decline-of-manny-pacquiao/ by - on 2023-03-15T09:26:20.120Z
Joe Cortez, who was inducted into the International Boxing Hall of Fame in 2011, opined that Floyd Mayweather Jr. still has what it takes to win against Pacquiao.
The retired referee, who was active from 1979-2012, said:
"

"

That fight is a fight that I see Mayweather winning by decision because Mayweather still has those skills.
The Hall of Fame referee, in his interview with On the Ropes Boxing Radio, told listeners that the two famous boxers already showed indications that they are, in his words, "slipping."
Floyd Joy S. Mayweather Jr. and Emmanuel "Manny" D. Pacquiao Sr. were once both regarded as the world's best pound-for-pound boxers.
When comparing them, though, the decline of Manny Pacquiao seems to be more apparent.
Cortez said:
"

"

All fighters reach a certain age that you have to slip a little bit, and he (Mayweather) may be slipping a little bit, but not enough to be in the danger zone.
When Cortez issued a statement about his analysis of the two fighters, both were aged 37.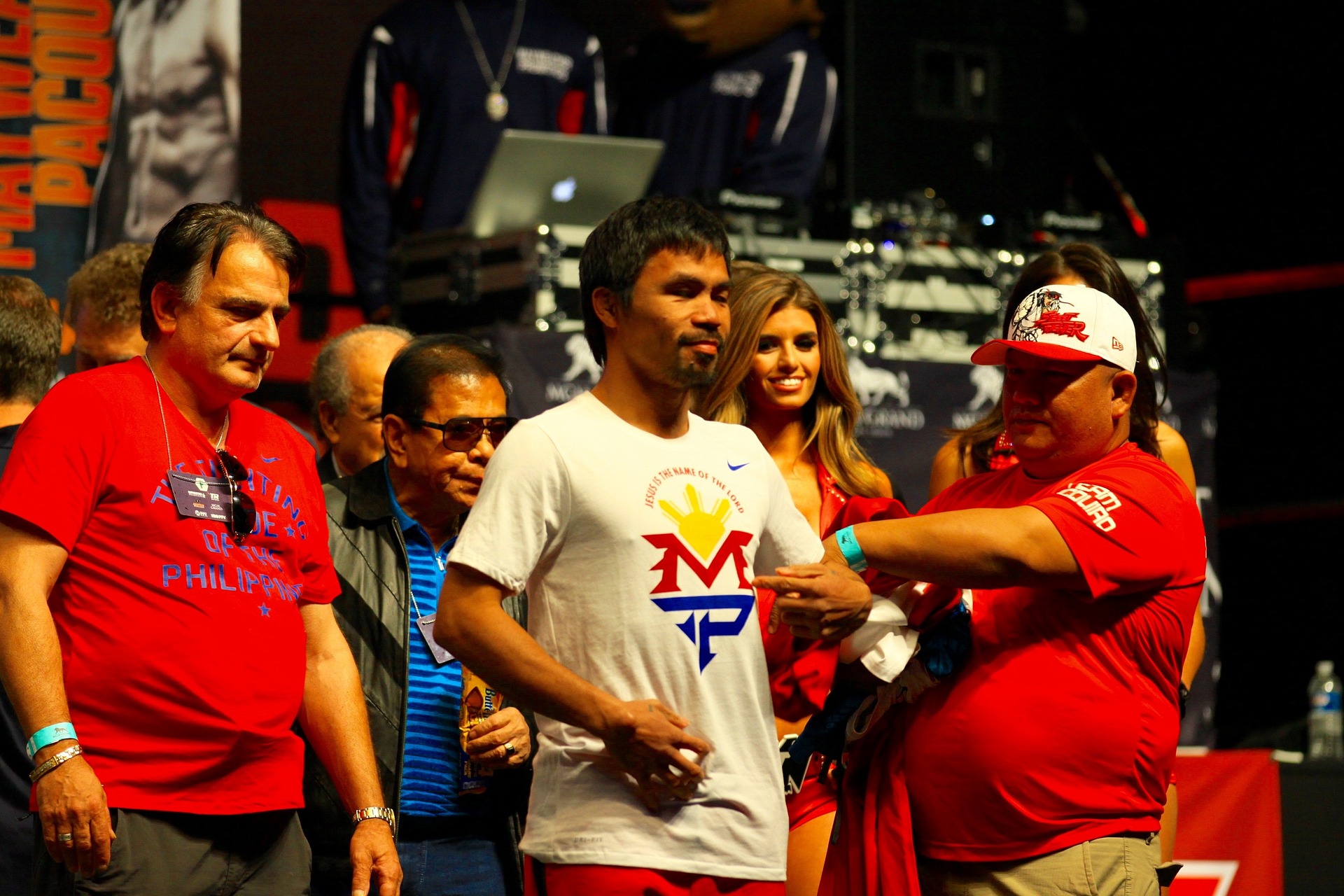 Manny Pacquiao in a customized white Nike T-shirt with his initials in red and blue during his Las Vegas weigh-in
The decline of Manny Pacquiao cannot be ignored.
Cortez thinks that the revered Filipino boxer has declined faster than Mayweather. One proof was Pacquiao's loss in December 2012. Mexican boxer Juan Manuel Marquez defeated him.
The former referee said:
"

"

Pacquiao getting knocked out by Marquez, and he looked okay when he fought Brandon Rios in Macau, but he's slipping a lot, too.
Despite the aging of boxers Mayweather and Pacquiao, Joe Cortez believes the former is undergoing the said process better than the latter.
As Cortez explained:
"

"

Mayweather's gonna be 40 real soon, so I think that he slipped a little bit, but not enough because the competition at that weight class (welterweight) is not gonna give Mayweather any trouble.
When Mayweather and Argentine boxer Marcos Maidana had a rematch, Cortez noted the outstanding boxing skills Mayweather demonstrated.
It could be recalled that during their prior match in May 2014 (the event dubbed as "The Moment"), Mayweather struggled against Maidana.
Cortez claims that Mayweather has improved since the mistakes he made at their May match. He then tried to make up for those mistakes during their rematch in September 2014 (this time dubbed as "Mayhem").
Cortez praised Mayweather for that, saying:
"

"

He knew what he could do with him, and he proved to the world that he could.
As for Pacquiao, Cortez, based on his assessment, said:
"

"

He's slipping a lot more than Mayweather is.
Could the decline of Manny Pacquiao affect his future matches in the near future?
Share:
Twitter

|
Facebook

|
Linkedin